Description
Aqua Marina Vapor SUP Paddle Board
The Aqua Marina Vapor is a great All Round starter model, suitable for people that want to start paddle boarding for the first time. The Vapor is the second model in the All-Round range with a payload weight capacity of 140 Kgs.
The new Aqua Marina Vapor features more generous volume and payload that cater to those looking for easier ride and for carrying more luggage. The comfortable diamond grooving footpad provides extra grip while the strengthened stainless steel leash D-ring ensures a safe ride in small waves.
Constructed with Aqua Marina's exclusive Drop Stitch Light Technology, the Aqua Marina Vapor is lightweight but super stiff. Coming with a new customised zip backpack, these classic All Round models are highly portable whilst packing everything inside.
Features
• Diamond grooving EVA footpad for ultimate grip and comfort
• Equipped with adjustable bungee cord stopper to easily tighten luggage
• Solid neoprene carry handle specifically designed for a comfortable grasp
• Extra stainless steel D-rings on deck pad for an optional seat
• Quality rubber patched air valve for premium look and better airtightness in harsh environments
• Removable slide-in Center Fin for toolless installation
Vapor Specification:Model:
Aqua Marina Vapor 10' 4"
Board Size:
315 x 79 x 15 cm (10' 4" x 31" x 6")
Volume:
310 Litres
Net Weight:
18.7 lbs / 8.5 Kg
Max. Payload:
308 Lbs / 140 Kg
Max. Air Pressure:
15 psi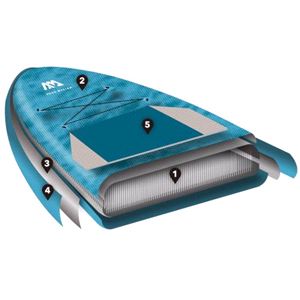 Quality construction, portable packing and durable yet affordable solution.

1. Double Wall Fabric drop stitch core
2. Light and printed tarpaulin layer
3. First PVC rail layer
4. Second PVC rail layer
5. EVA footpad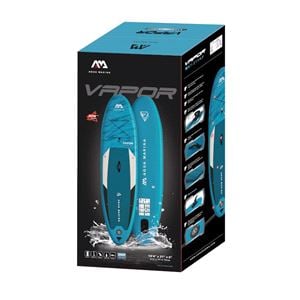 The Vapor Paddle Board kit comes with everything you next to get on the Water and store it away after.
The Kit contains:
* 1 x Zip Backpack to store the Paddle Board after use
* 1 x Double Action Pump Liquid AIR V1
* 1 x SPORTS III Aluminium Paddle
* 1 x Slide-in Centre Fin
* 1 x Safety Leash

Aqua Marina is one of the most popular iSUP, Kayak and Speed Boat brands and over one million Aqua Marina boards are currently been enjoyed worldwide. Aqua Marina are proud to offer an affordable, high quality line of water sports products designed to meet the widest range of use in today's most popular water sport activities
Aqua Marinas Stand Up Paddle Boards, or SUPs are the best there is when it comes to Stand Up Paddle Boards and inflatable Stand Up Boards. Inflatable SUPs are easy to carry and bring with you anywhere. Inflatable SUPs can be carried in a back pack or in the boot of your car. Inflatable SUPs can be used by all ages, Adult SUPs and Youth SUPs are available
The Wildhunter Brand
Wildhunter is a brand that was set up over 20 years ago. Wildhunter has been supplying the Fishing, Hunting and Outdoor sports communities for over two decades and we are still growing. We have Five Main departments that we have a large selection of products in.
Fishing Tackle and Fishing Equipment
We began our trade supplying fishing tackle and fishing equipment to anglers in the midlands of Ireland. We have fishing supplies for Pike Fishing, Trout Fishing, Sea Angling, Coarse fishing and whatever other type of fishing you might need fishing tackle for. We take pride in our large selection of fishing gear and we are constantly building it every day.
Hunting & Outdoor Sports
Our selection of Shotguns and rifles is second to none in Ireland. We have a very large showroom in our shop in Athlone. We have a huge selection of Centre Fire Ammo, Rimfire, Cartridges, Lead Pellets and more. We also carry the accessories and hunting equipment needed like Shooting Sticks, Thermal & Night Vision Devices, Ammo Bags and Belts, Hunting clothing and more
Camping and The Outdoors
Our camping department is also one of our growth sectors. We have a choice of multiple camping tents for one persons to family sized tents. Camping gas cookers, Sleeping bags, paracords, Camping furniture are all available whether you are an experienced camper or not
Airsoft & Archery
We have some serious Airsoft Pistols and Rifles and other airsoft guns for customers to see in store or on our website. Gas powered pellets guns and spring pellet guns are becoming increasingly more popular in Ireland with multiple Airsoft communities and Bow and Archery groups always on the rise
Watersports 
Watersports has been our latest venture in Wildhunter. We have for a long time been supplying life jackets and other essentials for anglers but most recently we have began supplying Floating Towables, Kayaks, Wetsuits and Stand Up Paddles Boards. This is our new sector and will continue to grow!
Payment & Security
Your payment information is processed securely. We do not store credit card details nor have access to your credit card information.