Description
Aqua Marina Coral SUP Paddle Board
The Aqua Marina Coral SUP Board, brand new for, is a ladies-specific all-around board designed for all levels of female riders. You will love it at first glance for its unique eye-catching color and design that will stand out on any beach!
The 2021 Aqua Marina All-Around Advanced boards will definitely be the favorites for all levels of paddlers. The new All-around Advanced boards provide excellent stability and ease of paddling. These newly designed boards are pretty eye-catching, portable and come with all the package accessories packed in our new upgraded zip backpack. Ideal for all paddling conditions with incredible rigidity and, new for, with a bonus tail kick pad.
By conjoining the Drop Stitch Light Technology with the Aqua Marina signature HF Welding Technology, the Coral Board is significantly lighter without compromising on stiffness. With added D-rings on the rail for the included shoulder strap, carrying this 8.6kg board is effortless.
The Coral has a payload capacity of 105kg.
Coral Key Features:
• Full deck and base quality printing for superior optics
• Non-print EVA footpad of diamond grooving crocodile skin, ensuring maximum grip and comfortable sun-bathing
• Equipped with adjustable bungee cord stopper to easily tighten luggage
• Solid neoprene carry handle specifically designed for a comfortable grasp
• Extra stainless steel D-rings on deck pad for an optional seat
• Upgraded air valve rubber patch providing user-friendly instructions and better airtightness in harsh environments
• 1000D double layered rail design for reinforced rail protection
• Newly-designed tail kick pad for critical bottom turns and cutbacks
• Removable slide-in Center Fin for toolless installation
Coral Specification:Model:
Aqua Marina Coral
Board Size:
310 x 78 x 12 cm (10' 2" x 31" x 4.7")
Volume:
230 Litres
Net Weight:
19.0 lbs / 8.6 Kg
Max. Payload:
231 Lbs / 105 Kg
Max. Air Pressure:
15 PSI
Whats in the Aqua Marina Coral box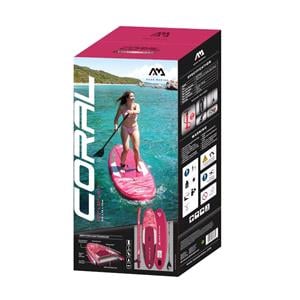 The Coral Paddle Board kit comes with everything you next to get on the Water and store it away after.
The Kit contains:
* 1 x Zip Backpack to store the Paddle Board after use
* 1 x Double Action Pump Liquid AIR V2
* 1 x Coral Carry Strap
* 1 x SPORTS III Aluminium Paddle
* 1 x Slide-in Centre Fin
* 1 x Safety Leash


Coral - Drop Stitch Light Technology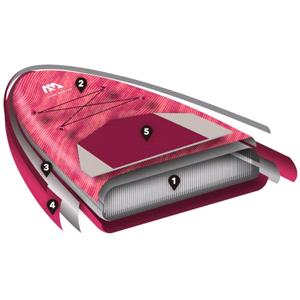 Quality construction, portable packing and durable yet affordable solution.

1. Double Wall Fabric drop stitch core
2. Light and printed tarpaulin layer
3. First PVC rail layer
4. Second PVC rail layer
5. EVA footpad


Aqua Marina Coral Handling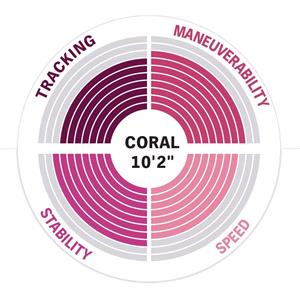 Aqua Marina is one of the most popular iSUP, Kayak and Speed Boat brands and over one million Aqua Marina boards are currently been enjoyed worldwide. Aqua Marina are proud to offer an affordable, high quality line of water sports products designed to meet the widest range of use in today's most popular water sport activities.
The Wildhunter Brand
Wildhunter is a brand that was set up over 20 years ago. Wildhunter has been supplying the Fishing, Hunting and Outdoor sports communities for over two decades and we are still growing. We have Five Main departments that we have a large selection of products in.
Fishing Tackle and Fishing Equipment
We began our trade supplying fishing tackle and fishing equipment to anglers in the midlands of Ireland. We have fishing supplies for Pike Fishing, Trout Fishing, Sea Angling, Coarse fishing and whatever other type of fishing you might need fishing tackle for. We take pride in our large selection of fishing gear and we are constantly building it every day.
Hunting & Outdoor Sports
Our selection of Shotguns and rifles is second to none in Ireland. We have a very large showroom in our shop in Athlone. We have a huge selection of Centre Fire Ammo, Rimfire, Cartridges, Lead Pellets and more. We also carry the accessories and hunting equipment needed like Shooting Sticks, Thermal & Night Vision Devices, Ammo Bags and Belts, Hunting clothing and more
Camping and The Outdoors
Our camping department is also one of our growth sectors. We have a choice of multiple camping tents for one persons to family sized tents. Camping gas cookers, Sleeping bags, paracords, Camping furniture are all available whether you are an experienced camper or not
Airsoft & Archery
We have some serious Airsoft Pistols and Rifles and other airsoft guns for customers to see in store or on our website. Gas powered pellets guns and spring pellet guns are becoming increasingly more popular in Ireland with multiple Airsoft communities and Bow and Archery groups always on the rise
Watersports 
Watersports has been our latest venture in Wildhunter. We have for a long time been supplying life jackets and other essentials for anglers but most recently we have began supplying Floating Towables, Kayaks, Wetsuits and Stand Up Paddles Boards. This is our new sector and will continue to grow!
Payment & Security
Your payment information is processed securely. We do not store credit card details nor have access to your credit card information.